There has been a significant rise in the use of digital media and the development of digital technologies in the 21st century, especially across GCC. Due to this, digital advertising has become increasingly popular. Though numerous for-profit enterprises have adopted this, relatively few charitable groups have done so. It's a mistake because internet marketing can be a powerful tool for nonprofit groups. Online marketing for nonprofits can help attract new donors, strengthen existing relationships, and showcase their organization's competitiveness. If you run a nonprofit, you must embrace digital marketing immediately. If you are still unsure how digital marketing can help, let us tell you why.
Significance of Digital Marketing For Nonprofit Organization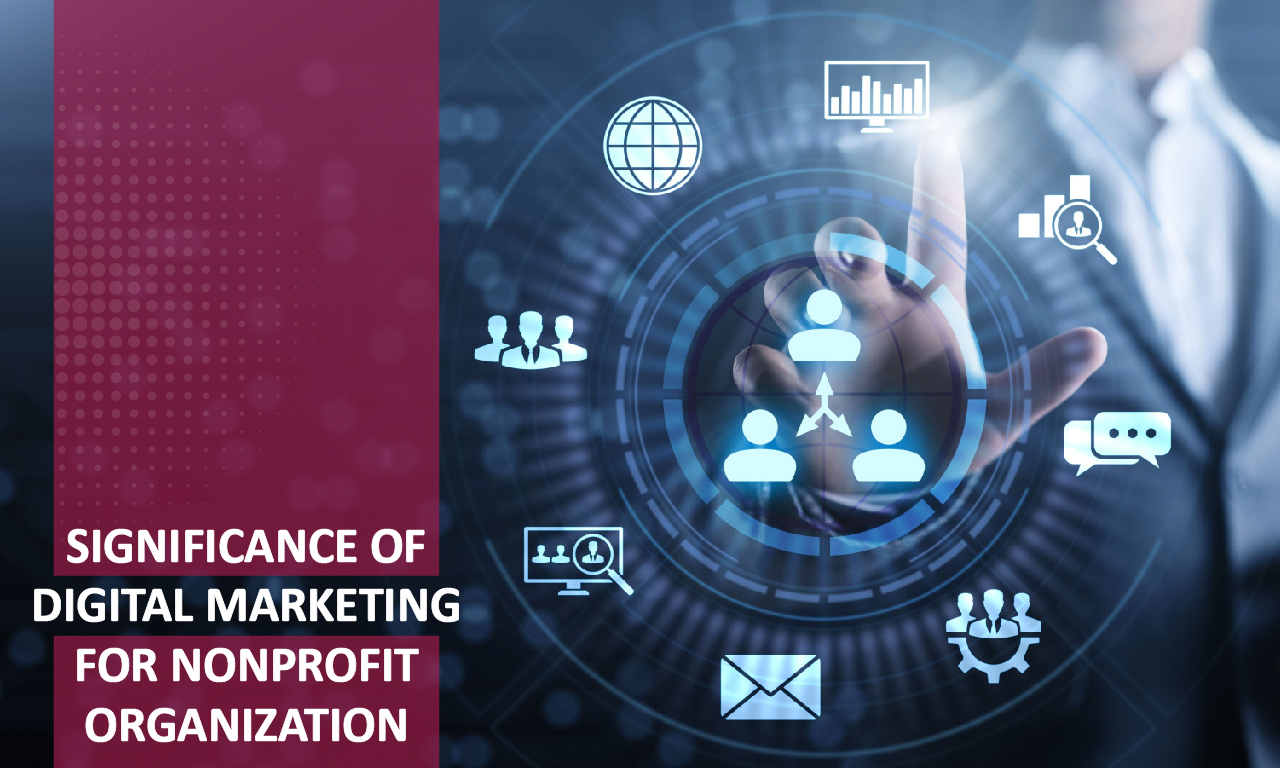 Due to the proliferation of digital marketing tools, companies of all sizes and types can now build their brands and gain a dominant position in their industries. This strategy benefits of raising a company's profile, connecting with its customers, and broadening its global reach. With the use of digital marketing, a welfare organization may contact donors all over the world.
Social media marketing, email marketing, pay-per-click (PPC) advertising, search engine optimization (SEO), paid placement in media, etc., are just a few methods that can be used to expand a company or a charitable organization. Digital marketing for nonprofit organizations' primary benefit is that it's much less expensive than conventional methods of advertising. Plus, it can reach more people since there will be more than 7 billion internet users by 2030. That's excellent news since it implies a broader audience may be reached using the same amount of money allocated to advertising.
The primary motivation of nonprofit organizations is not financial gain but rather service to a charitable cause. Online marketing for nonprofits can benefit institutions as it will assist them in growing their audience and spreading their message.
Nevertheless, a robust strategy is required for online marketing for charities. As we understand that nonprofit organizations' primary goal is to provide service, but with the assistance of online marketing, they can significantly contribute toward their goal. A digital marketing agency for nonprofits should be consulted as they are experienced and can lend a hand in spreading the message of an NGO/NPO.
Top 3 Benefits Of Online Marketing For Charities
Connect Via Personal E-mail
Digital marketing strategies, such as email marketing, are highly effective in attracting potential funders and sponsors. Email is the most personable method of contact when it comes to digital marketing. Delivering a personalized message to the intended receivers allows you to provide them with valuable and original content. There are other approaches too for digital marketing for a nonprofit organization, but email marketing can be cost-effective, and it has the potential to surpass your organization's expectations.
With a perfect strategy of online marketing for charities, you can divide your target market into subsets and send them highly targeted emails with compelling CTAs. As a result, you can ensure that the appropriate individuals receive the correct information. In this way, you can inspire your audience to engage with your brand.
If you're looking for a foolproof method to increase your email marketing performance, Bytes Future is the company to call. When it comes to digital marketing agency for nonprofits in the Middle East, no one does it better than Bytes Future. You can rely on the experts they employ to provide your nonprofit with top-notch digital marketing services. They've been in the email marketing business for more than 15 years. As a result, with the help of their experience and skills, you can utilize email analytics to assess the health of your campaign in real-time and fine-tune your approach.
Establish Credibility By Backlinks
Building a website is the first step in a comprehensive digital marketing strategy for a charitable organization. People interested in learning more about a business will most likely look to the company's website first. It's like having a central hub where people can find out all there is to know about your organization.
But the internet already has millions of websites. In order to attract visitors and make a lasting impression, your website needs to gain credibility. To do this, acquiring backlinks to your website is the best strategy. There are several ways to establish backlinks. However, it is recommended to use the service of a digital marketing agency for nonprofits, so you can concentrate on serving humanity while they are optimizing your website. That is why online marketing for nonprofits is exceptionally crucial. Specialists at NGOs/NPOs should focus on helping other human beings and let a digital marketing agency take care of their online presence.
Nevertheless, the authority of your website can only increase with the presence of original and interesting content. Google sees it as a vote of confidence when other sites link back to yours. You can expect a higher placement in Google's search results as a result of this. Backlinks can be made in-house, but the process can also be outsourced to companies that provide services of digital marketing for nonprofit organizations.
Witness Increased Traffic
Pay-per-click (PPC) advertising is a valuable tool for attracting new visitors to a website. Google offers subsidies that will help your company begin advertising without spending much money upfront. Google Grants is an excellent PPC resource for nonprofits because it offers customers up to $10,000 in PPC advertising every single month.
Also, after your Google Grants account is confirmed, you can promote your business and activities without spending a dime. Because of this, you'll be able to drive targeted visitors to your site. PPC can also be used for keyword research, allowing you to investigate high-volume but broader terms.
You may learn a lot about your readers' habits from the information you collect, such as their click-through rate, where they go after reading an article, and so on. Marketing aspects such as landing pages, blogs, and more may all be improved upon. One way to direct marketing efforts is to find out what people like best, and that's what professionals at a digital marketing for nonprofit organization would do.
We understand that these are some technical things, and if you are not experienced, you are prone to make some mistakes that can affect your business. A veteran digital marketing agency for nonprofits can easily assist you in your whole errand.
Bytes Future A Leading Digital Marketing Agency For Nonprofits In Middle East
Bytes Future is a digital marketing agency based in Riyadh, Saudi Arabia, that offers online marketing solutions to nonprofit organizations, charities, and social enterprises in Saudi Arabia, UAE, and Bahrain. They are passionate about helping nonprofit organizations reach their target audiences through innovative and effective online marketing campaigns. Their services include website design and development, search engine optimization (SEO), search engine marketing (SEM), social media marketing, email marketing, content marketing, and much more. They have assisted in several projects of online marketing for charities across the Middle East. Their professionals have successfully assisted in amplifying donations through digital means, and they are always available to contribute to serving humanity with NGOs/NPOs.
Wrapping Up
Online marketing for nonprofits is undoubtedly vital. Digital marketing may help nonprofits of all sizes spread their message, attract more visitors, expand their fan base, and solicit more financial support from their target audiences. With the help of the finest digital marketing agency for nonprofits like Bytes Future, you can expect instant growth in your online presence. So what are you waiting for? Now is the time to take advantage of the widespread use of digital technologies by consumers and businesses alike and use them together to propel your organization to new heights.