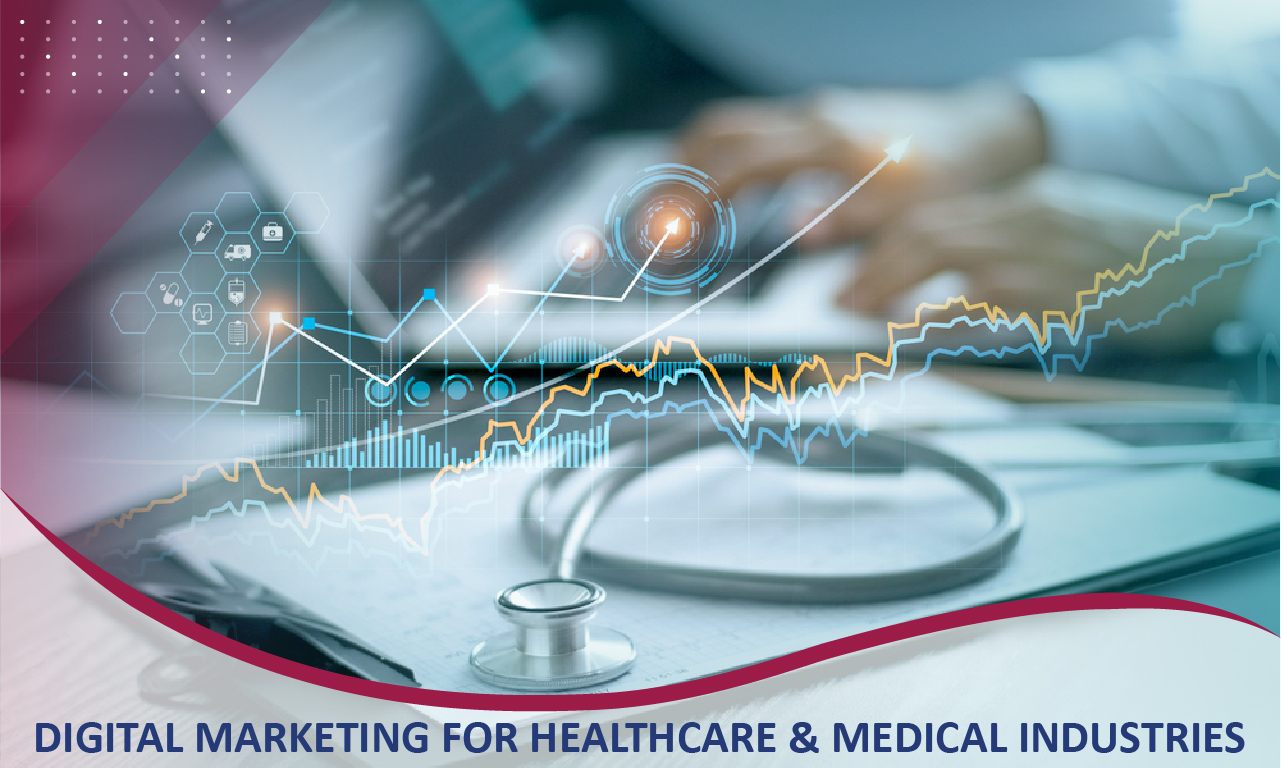 As we now know what digital marketing entails, the question becomes 'What is the relevance of digital marketing in the healthcare industry in the Middle East? To answer this question, let's have a look at the past, present, and the future of digital marketing for healthcare.
The Past
As the Internet became prevalent in the mid-1990s, it directly altered marketing in the healthcare industry. At this time, industry-leading healthcare companies began creating simple websites to strengthen their online presence.
The Present
With time digital marketing has become widely adopted by virtually every sector of the healthcare industry. Today, healthcare digital marketing can be found through various digital marketing mediums on the Internet. Some most prevalent digital marketing mediums in the healthcare industry are content marketing, search engine marketing, social media marketing and digital paid to advertise. As for social media, studies show that 41% of consumers say that content on social media networks has influenced their choice in a hospital or treatment center. These popular healthcare marketing mediums provide patients with the liberty to gather information about businesses effortlessly through the internet.
The Future
Traditional marketing methods like print advertising, broadcast advertising, billboard advertising are slowly losing their dominance. The digital world, however, is increasing in size year over year. Computers, tablets and phones are now becoming part of the daily routine for a majority of people. Patients expect to find results regarding their healthcare needs on digital platforms. In order to attract and retain these digital prospects, healthcare companies must rework and revamp their marketing strategies. It is for this reason that digital marketing is conquering all industries.
The last few years have witnessed an exponential rise in the arena of digital marketing for healthcare. It has become a vital part of the marketing strategies formulated by businesses in almost every industry. With time, digital marketing services for healthcare industry will become increasingly indispensable for each company.
The importance of digital marketing for healthcare industry
The rapid growth of technology in the last few decades has opened the floodgates for digital marketing in the healthcare sector. There has been a recent trend shift with several businesses bidding adieu to traditional marketing and opting for digital marketing strategies.
According to reports, 80% of internet users claim to have searched online for information related to medical procedures and health issues, over a one year period. This hints at the vast potential possessed by digital marketing to transform the healthcare industry. Due to trends like these, an increasing number of healthcare providers are making use of medical digital marketing services to promote their business.
Benefits of Digital Marketing for the Healthcare Industry
Here are some of the major benefits that can be availed through digital marketing services for the healthcare industry:
Strengthen Relationships
Another great perk of digital marketing is that it enhances the course of communication between the healthcare brand and the patient. Through digital marketing mediums, healthcare providers can receive and provide information to their patients which enable bilateral communication between both parties. This encourages a stronger relationship which is likely to generate long term results.
Reduce Marketing Budget
Although some healthcare firms may have big marketing budgets, it is not usually the case for most small and medium healthcare businesses. Digital marketing helps brands save big on their marketing cost and encourages a high return on investment. Marketing through digital marketing mediums such as social media, email and search engines is much more affordable than traditional mediums such as television, newspaper and billboards.
Target Marketing Efforts
Businesses in the healthcare industry are often aware of the demographic they want to reach in their marketing campaign. The question is, how does one find this audience and how to target them effectively. Availing digital marketing can help healthcare companies overcome this challenge. It allows companies to target their marketing activities much more precisely than traditional marketing.
Improve Brand Metrics
With the health trade becoming hypercompetitive, having a strong brand helps healthcare businesses differentiate themselves from competitors. Digital marketing can allow a company to improve its brand metrics such as brand awareness, brand reputation, brand perception and more. Thus, having stronger brand metrics encourages customer purchase and long-term success.
Optimize Customer Experience
Healthcare digital marketing helps maximize convenience and efficiency for patients. Patients are able to easily access healthcare providers' information to facilitate their overall service experience. Healthcare providers can improve pre-purchase, purchase and post-purchase experience by providing their patients with valuable information on the Internet.
Personalize Marketing Activity
Health is an extremely personalized subject and marketers know that consumers prefer a personalized approach. An individual can seek medical care for general wellness as well as for a life-threatening disease. For this reason, a generic approach can be a total failure. Digital marketing can help healthcare providers reach out to their patients in a personalized manner to answer their specific needs.
Flexible Marketing Campaign
Digital marketing allows healthcare companies to make use of several marketing mediums to best align with their client's interests. The variety of options makes for a flexible marketing campaign that incorporates many marketing mediums. These marketing mediums can also easily be modified, refined and updated to improve marketing with time.
Every day, an increasing number of people are exploring the digital marketplace in search of their desired product. In such a setting, even if a company has already invested in traditional media, it needs to consider embracing digital marketing in the strategy for better leads and profit.
Give Bytes Future a try
Bytes Future is a digital marketing agency based in Saudi Arabia with three operational offices in Riyadh, Jeddah, and Dammam. All three of these offices have one goal – to help businesses of all sizes embrace digital transformation. The healthcare sector chooses Bytes Future for our renowned medical digital marketing services. We continue to strive and aspire to add value to the hospital sector by offering unparalleled digital marketing for hospitals that get the job done. We ensure that the medical digital marketing services that we offer results in a robust marketing strategy and aligns perfectly with your core values.
Our dedication and zeal are what set us apart from others. This is the reason why Bytes Future is the leading digital marketing agency in all of KSA. Hospitals from UAE, Qatar, and Bahrain love our digital marketing for medical companies because they deliver impactful results. The hospitals in Oman and Kuwait pick us over everyone else because our digital marketing for hospitals is just that good. If you happen to be looking for effective digital marketing services for healthcare company in Saudi Arabia, then look no further. Bytes Future allows you to get medical digital marketing services at the most affordable prices.
Bytes Future functions by combining the joint technical, technological, and creative capabilities in such a way that it has made us a dynamic medical digital marketing company. With our top-rated experts working on your digital marketing strategy, you can always take comfort in the knowledge that you are getting no.1 digital marketing services for healthcare. From inception to conception, our digital marketing strategy makes you an authority within your niche and industry.
With proven methodologies and agile practices, we help you harness the power of the digital world. We foster growth through digital marketing for healthcare sector that's backed by research and data. We don't believe in offering low-quality medical digital marketing services for any business. Hence, all our medical digital marketing services are primed for digital success.
Give Bytes Future a shot and see the difference we make for your business.