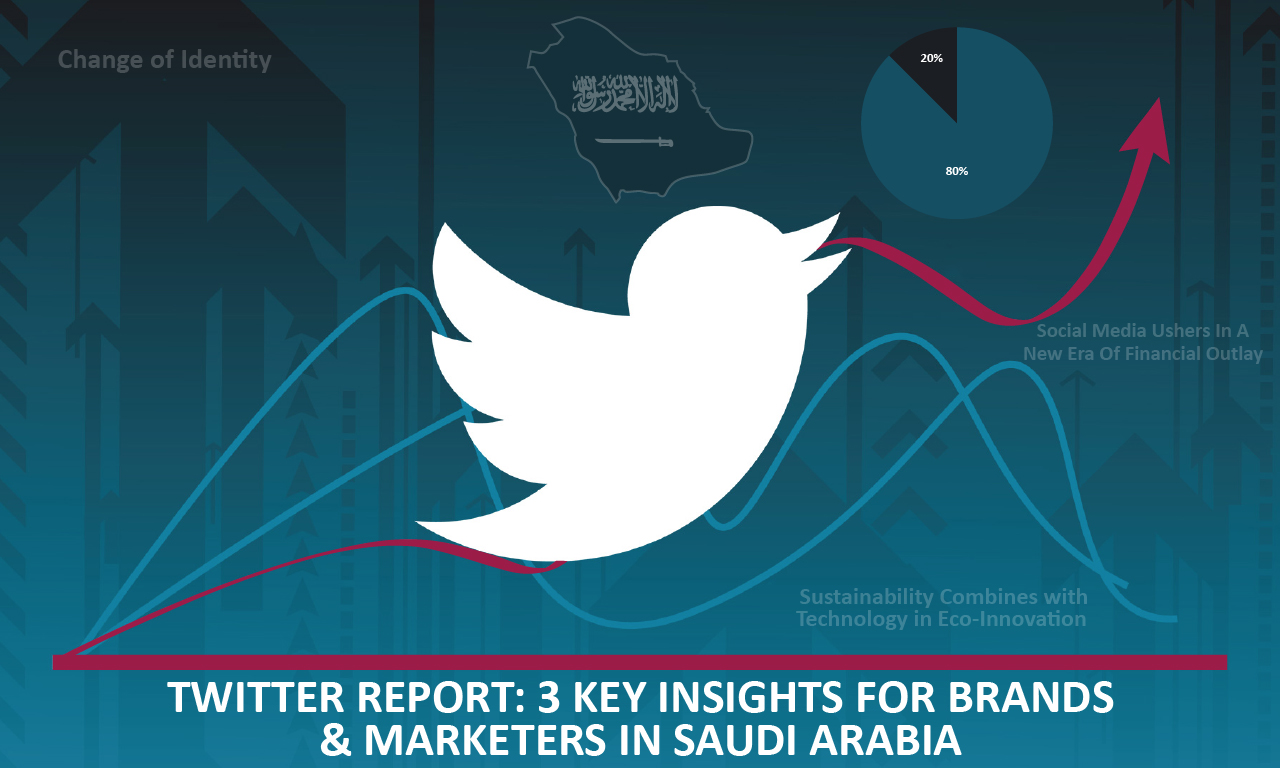 As the world's largest market for digital marketing services, Saudi Arabia is a crucial driver of a global conversation on Twitter. Twitter has announced the key trends shaping the Saudi conversation in 2022. The social media platform says that the future of the conversation in Saudi Arabia will be shaped by young Leaders, boundless creativity, and a willingness to challenge norms. In this piece of writing, three key insights for brands and marketers in Saudi Arabia will be covered, and the impact on digital marketing services will be analyzed.
Recent Analysis By Twitter
In recent research collaborated with Pulsar and Canvas8, Twitter outlined the impending impact of three key trends. The following trends reflect what is happening in Saudi Arabia and what people are genuinely talking about, as observed on Twitter and evaluated by cultural and data experts over a two-year period.
3 Key Insights for Brands and Marketers in Saudi Arabia
1. Change of Identity
Societal shifts are shaping individual identities in Saudi Arabia, and these shifts, in turn, are shaping the identities of citizens of Saudi Arabia. Pride in one's community, curiosity about the world, a more even distribution of the sexes in one's personal relationships, a yearning for public acknowledgment, and a blending of one's identity and one's aspirations are all outward manifestations of the growing number of discussions about women in the workforce, about driving, about the economy, and about embracing smart cities. Topics such as young innovation, dual income, family planning and size, and quality of life are expected to expand, coupled with discussions of national pride in regard to smart cities and Neom and chasing the Saudi dream.
People's sense of identity and the aspiration to succeed on one's own terms are intrinsically linked to the belief that Saudi Arabia is finally assuming its proper place on the world stage, which is why it is so important to celebrate the Saudi dream. Consumers' pride in their accomplishments is at an all-time high, so offering them a way to express that pride is a valuable service.
The drive for achievement and the brand's alignment with this goal of becoming an agent of self-improvement are mutually beneficial. Brands earn consumer loyalty by helping people become better versions of themselves.
Brands that highlight the achievements of women tend to do well because their target audience identifies with those values. Instead of focusing on the broad rules and decrees that make the celebration possible, it is more genuine and generates fewer heated debates when highlighting specific cases.
2. Social Media Ushers In A New Era Of Financial Outlay
Once a land where lavish spending and open hearts were indicators of prosperity, Saudi Arabia is today widely recognized as a place where thrifty behavior is a sign of a savvy citizen.
Conversations on sales, promotions, and discounts increased by more than 49 percent on Twitter from the previous year.
Brand mentions of the digital economy increased by more than 36% year over year, and cryptocurrency mentions rose by more than 595%. People feel more confident as discussions about digital marketing, content production, digitization, innovation, remote working, and entrepreneurship are expected to increase in the following years.
Necessary points for brands
Customers don't always seek the lowest price, but they want to get the most value out of their purchase. Maintaining a moral stance toward offering value is a surefire way to win over fans and customers.
The urge to have one's own success tale mirror the nation's success story necessitates an acknowledgment of the patrons' own successes and ambitions. Customers feel more connected to your brand if you acknowledge and support their aspirations.
Citizens of Saudi Arabia are not only seeking ways to involve digitalization in their community, but they are also open to agreements. If you can get people excited about something, they will circulate the news.
Demonstrate the possibilities and encourage enthusiasm for the future by embracing the digital economy. Put crypto to work for your company and make it available to more people.
The assistance of a digital marketing agency can help you flourish your business in GCC. To make your company grow and build a robust digital marketing strategy is crucial. Your brand can optimize search engine rankings and increase conversions through quality digital marketing services.
3. Sustainability Combines with Technology in Eco-Innovation
When issues such as smart cities, digital marketing, smart automobiles, massive train constructions, and alternative energy projects contribute to Saudi Arabia's national character, Arabs become interested in them. However, individual influence is only getting started. There is excitement and support for the government's sustainability projects, and there has been a rediscovery of Saudi Arabia's natural assets. Neom and The Line Project increased by 191% and 153%, respectively, over the previous year.
People aren't only talking about sustainability in terms of preventing climate change or protecting the environment; it's also fueling genuine enthusiasm for Saudi Arabia's future as a nation and individuals' growth and opportunities. Conversations about technology (+49%), electric vehicles (+55%), and smart cities (+180%) have all increased year over year, corroborating the trend. The research also highlighted emerging technologies related to sustainability, cultural/entertainment projects with a sustainable viewpoint, local tourism and pride in Saudi nature, and employment opportunities in smart cities.
Here's a chance for companies to get people thinking about some serious issues:
Sustainability is a competitive advantage; initiatives that benefit Saudi Arabia are well received and interesting, especially when presented in the context of having a direct effect on the region.
The innovative application of technology captivates audiences and is consistent with Saudi Arabia's vision for the future. Demonstrate to your clientele that you're on the cutting edge of technology. Open up your company to the public and explain how it really works to generate jaw-dropping moments and make the incomprehensible look approachable.
Brands may have interesting and fruitful conversations with their customers if they help them see the connections between sustainability and their own financial or social advancement due to the shift.
Twitter discussions indicate underlying movements in trends affecting consumer behavior in Saudi Arabia, making it essential for companies and marketers seeking to connect with their customers.
Impact Of Twitter Report On Digital Marketing Services
The report of Twitter clearly showed various opportunities that can benefit the Kingdom of Saudi Arabia. These opportunities can be grasped with the help of digital marketing services via a veteran digital marketing agency. Digital marketing is one of the most important aspects of running a business in Saudi Arabia. In order to reach potential customers and promote your products or services, you need to have a robust online presence. And the best way to do this is to hire a digital marketing agency.
There are many benefits of working with a digital marketing agency. They will be able to help you create a solid online presence for your business, and they will also be able to help you reach your target audience. Additionally, they will be able to help you save time and money by managing your digital marketing campaigns for you.
If you are wondering about getting top-notch digital marketing services from a veteran digital marketing agency, then you should contact Bytes Future. Bytes Future is a Riyadh-based digital marketing agency that has formed various digital marketing strategies for different organizations across the Middle East. Their proven track record has assisted them in being acknowledged as a leading digital marketing agency in Saudi Arabia, UAE and Bahrain.
Wrapping Up
Twitter has revealed the year 2022's most prominent issues in Saudi Arabia. As per the report, the next generation of leaders of Saudi Arabia, with their infinite imagination and willingness to challenge norms, will define the direction of Saudi discourse in the future. Twitter recently released a study in collaboration with Pulsar and Canvas8 that predicted the effects of three major developments. Over a two-year period, cultural and data experts monitored Twitter to determine what was trending in Saudi Arabia. The Twitter report made it easy to see the many possibilities that could work to Saudi Arabia's advantage. Digital marketing services from an established digital marketing agency can help businesses thrive on these opportunities. In Saudi Arabia, digital marketing is crucial to the success of any company. A brand or company needs a solid internet presence to contact new clients and market its products or services. And if they want to do this right, they should collaborate with a digital marketing agency. Bytes Future is headquartered in Riyadh. It has developed a wide range of digital marketing campaigns for clients in the Middle East. As a result of its success, they are currently considered a top digital marketing agency in Saudi Arabia, the United Arab Emirates, and Bahrain.