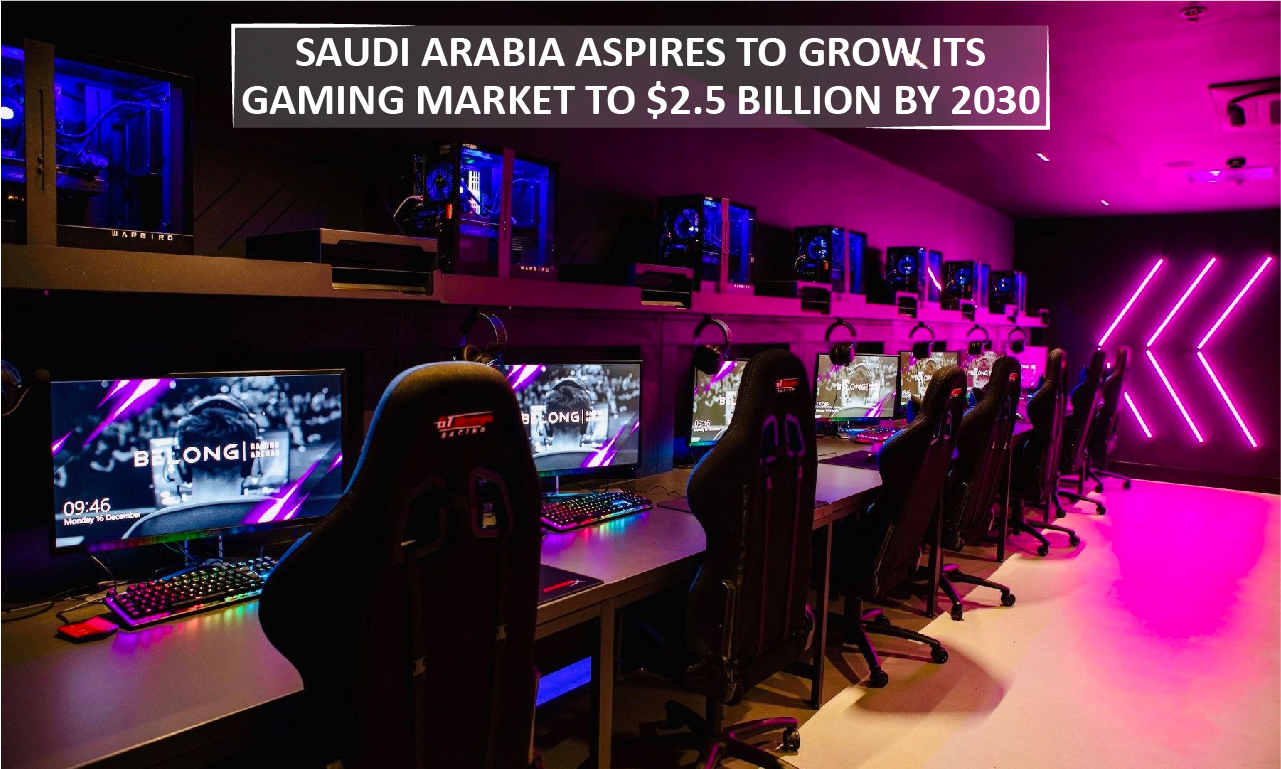 Saudi Arabia has grown to become the largest economy in the Arab world. Moving forward, KSA is now focusing on expanding its already booming gaming market. This is big news for all of GCC & Middle East. Much like digital marketing, the gaming market has also seen drastic growth. This is a result of a number of factors, which include the ongoing pandemic, easier access to the internet, futuristic digital policies, and a high smartphone penetration rate across Saudi Arabia.
Currently, Saudi's gaming market (mobile, internet, and console) stands at a whopping $1 billion dollars. Looking at the likability and high demand, KSA's Social Development bank (SBD) has announced to expand its gaming market to $2.5 billion by 2030. This is big news for all gaming enthusiasts as it shows the commitment and inclination of the Saudi government to create more high-quality jobs and bring in substantial revenue.
Speaking to al-Arabiya.net, Sultan Al-Hamidi (SDB's Executive Vice President in Business Division) said 'The goal of the Saudi government is to continuously support this important and dynamic sector, in addition to increasing investment in it'.
He went on to say that 'This support resulted in the 'Savvy Gaming Group (SGG)' launched by the Public Investment Fund (PIF), a group that focuses largely on the gaming sector, as it will facilitate business owners to invest in the sector.
The newfound Savvy Gaming Group aspires to become the country's largest gaming and Esports group both locally and internationally.
Furthermore, a gaming and sports event took place in January in Riyadh at Dulani Business Center. The aim of this event was to empower entrepreneurs and freelancers. This event proved to be a monumental event as it allowed activities such as discussion sessions with gaming and marketing experts. The event saw many futuristic projects being presented. Subsequently, there was an entire sector that was dedicated to consultations in the fields of marketing, business development, finance, legal and operational advice for project owners by professional consultants. Workshops were set up for the participants as well. These workshops allowed business owners to gain valuable insights on how to leverage the gaming industry. To top it all off, there was a 'Live the Experience' zone that allowed the participants to try out different VR and AR games. This event served not only as a recreational event but also allowed the participants to better prepare themselves for what the future holds.
Role of Saudi Esports Federation in promoting gaming in the Kingdom of Saudi Arabia
The Saudi Esports Federation (SEF) was founded in 2017 and ever since its inception; it has worked to empower the Arab youth to enter both the local and international gaming arena. They have organized countless tournaments and events to boost Saudi's gaming industry. Some of their most notable and egregious initiatives are as follows:
Voices of Saudi Esport – This is the latest initiative that is about to be launched in a couple of days. Through this initiative, SEF aims to facilitate gaming content creators to produce high-quality gaming and Esports videos in a more structured manner. This initiative will provide all the right resources to content creators and digital marketers to enrich the gaming ecosphere in KSA. Apart from the multiple tools and software, Voices of Saudi Esport will also give awards and cash prizes to the participants.
The SEF Awards – The SEF Awards is an exclusive event that honors and motivates the best within the Kingdom's gaming sector. This award ceremony is a celebration of the gaming talent within the country.
Gamers without borders – This event was organized in 2020 and proved to be the world's largest Esports charity event. 460,000 gamers from 141 countries participated in this event and $10 million U.S dollars were raised for Covid-19 vaccines. The prize money was donated as funds to ensure that everyone around the world gets vaccines easily and safely. The event took place again in 2021 and once again raised money to provide vaccine resources to underdeveloped nations.
Saudi eLeague – Promoted as the Saudi Esports competition summit, this initiative is helping the kingdom prepare elite athletes for global gaming championships. 32 teams compete in this tournament for a prize of 4 million SAR.
Saudi eLeague Champions – 20 players compete for a prize of 1 million SAR in a series of knockout matches to determine the real winner.
eMBS League – Named after Prince Muhammad Bin Salman, this electronic football tournament gathers players from all over UAE including Oman, Bahrain, Qatar, and Kuwait. 16 teams and 32 players compete for the eMBS League cup.
Esports Federation Championship – Held in 2021 for the first time, this tournament saw 300+ players competing in a variety of different electronic Esports. This tournament aims to find young talent and hone and train them well for international gaming competitions.
eKingdom Cup – SEF has partnered with Saudi Football Federation for this tournament. Held in 2021 for the first time, this tournament saw players from all over Saudi, belonging to different football clubs compete in a series of knockout matches. This tournament once again aims to promote Esports and prepare gamers for international events.
JSRK League – Last but not least is the JSRK League. This tournament aims to promote gaming amongst university students. For this purpose, SEF has partnered with the Saudi Federation of University Sports. Players from different universities test their mettle in this trailblazing tournament.
The role of Saudi Esports Federation is clear. It aims to promote gaming and Esports not only within the kingdom but also throughout the GCC & Middle East.
Should I invest in the gaming sector?
After all that has been said and done, business owners in Saudi Arabia are now have their eyes all set on the gaming sector. This leads to the question: Should I invest in the gaming sector? This is completely subjective. Many factors should be taken into consideration before jumping into this arena. While the gaming market in Saudi is expected to grow, it does come with its own set of challenges. According to a report published by the Boston Consulting Group (BCG), the gaming consumption in KSA will reach $6.8 billion dollars. This report shows that the estimation put forward by BCG is much higher than that of SBD.
Additionally, this report also highlighted that KSA is home to some 23.5 million game aficionados. All these numbers are only expected to rise as the years pass by. Lack of local competition, the gaming industry in its nascent phase, scarcity of funds for professional gamers, and social stigma of choosing gaming as a profession are all drawbacks that the SBD must address and resolve. However, there's no need to be alarmed. As mentioned earlier, the gaming industry of Saudi Arabia is expected to grow dynamically much like the digital marketing industry. So the more important question now would be: are you willing to invest in the gaming market? You definitely should!
How to enter Saudi Arabia's gaming market?
The easiest and simplest way to do so is by getting in touch with a digital marketing agency in Riyadh, Jeddah, or Dammam. However, finding a trustworthy digital marketing company isn't as easy as it might seem. Therefore, you need to get in touch with the creative minds at Bytes Future. But why should you choose Bytes Future? The answer is easy – because they offer complete marketing solutions at affordable rates. No matter what your requirement or budget might be, Bytes Future has something for everyone. They not only host a team of the best professionals in all of KSA but they also have years of solid experience. They have worked with countless brands and developed games that are both fun and engaging. With a digital marketing agency like Bytes Future by your side, you can rest assured that your gaming project is in the best hands.
Make an impact on the gaming market and enter with full force. Bytes Future is the digital marketing company that will help you become the business of the future. If you're based in Riyadh, Jeddah, or Dammam or anywhere in Middle East/UAE, like Qatar, Kuwait, Oman, or Bahrain, then don't waste your time and get in touch with Bytes Future now. The gaming industry is ready to welcome you.