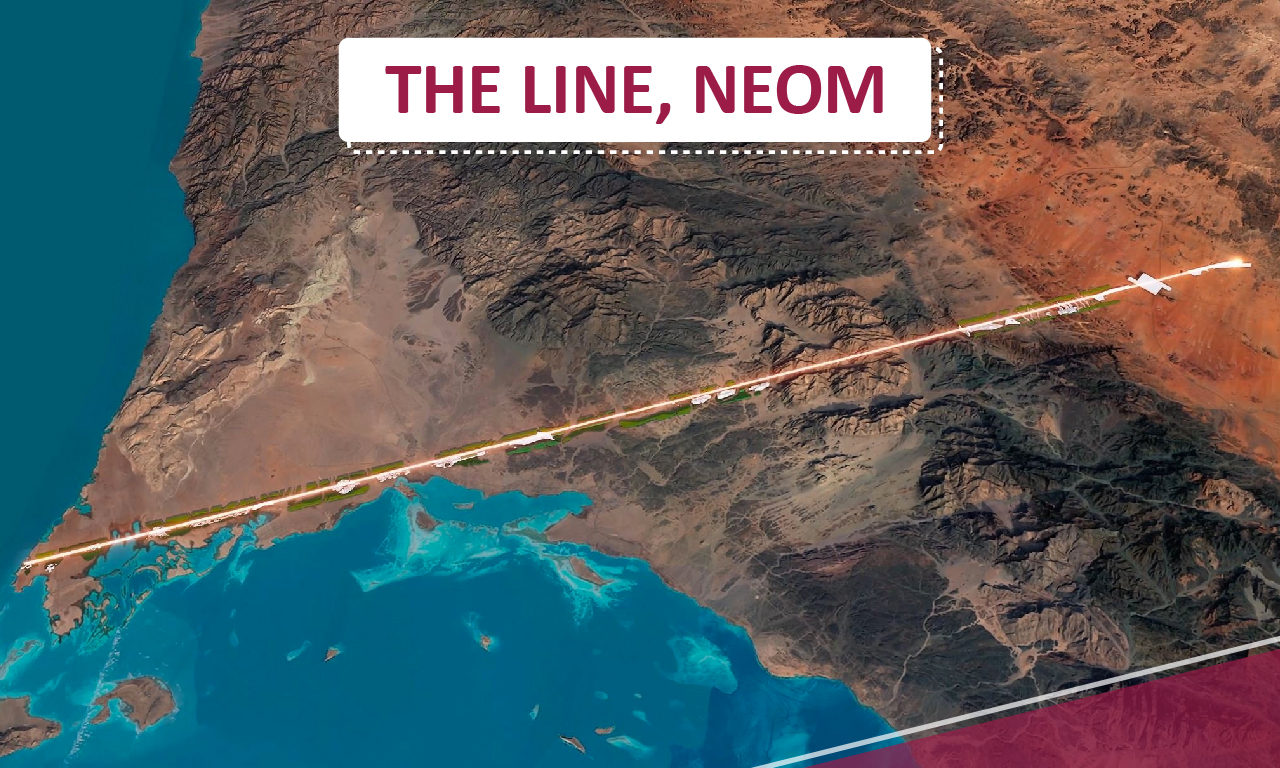 The Line is a planned vertically built, car-free, renewable energy-powered smart city unveiled in 2021 by Saudi Arabia's Crown Prince Mohammed bin Salman. The width of the city was planned to be 200 meters (656 feet), while the height was planned to be 500 meters (1,640 feet), and the length was planned to be 170 kilometers (105 miles). As its glassy façade stretches along the shore, it will enclose a number of neighborhoods with enough space for up to 9 million people. The Line would be the first city in Saudi Arabia to not use fossil fuels, and it will be one of the world's most technologically advanced cities. Due to this, some businesses have a lot of potential to flourish; let's explore them!
What Is The Line?
The Line is a part of the Saudi Arabian government's Neom mega-city project. The architects of The Line planned a city where residents can easily run into one another while going about their everyday business and where amenities are within a five-minute walk of people. Although there will be no roads or parking, a high-speed rail will provide 20-minute, end-to-end transportation. In addition, it will use natural ventilation to provide comfortable living conditions throughout the year.
What Is Neom?
Neom is a new city being developed in the Tabuk Province in Saudi Arabia's northwest. It's located north of the Red Sea, across the Gulf of Aqaba from Egypt, and south of Jordan. It will be a tourist attraction that makes use of smart city technology.
All laws pertaining to security, defense, and border protection that are in effect everywhere in the Kingdom of Saudi Arabia also apply in the special economic zone of Neom City.
His Royal Highness, the Crown Prince, will ensure that the future city of Neom enjoys certain special regulations related to investment as per its strategy as part of the Saudi Vision 2030.
What Are The Salient Features of The Line?
A centerpiece of Saudi Vision 2030, it is expected to boost diversification, create 380,000 new employment, and add SAR180 billion (USD 48 billion) to the Kingdom's GDP by 2030.
The Line's neighborhoods will be "intelligent," driven by AI, always getting smarter and finding new, more efficient ways to save time for residents and businesses alike. In contrast to the standard 1% utilization in present smart cities, it is expected that 90% of available data would be utilized to improve infrastructure capabilities significantly.
People, not cars, are the primary focus of The Line, the first major urban development. Everything you need for everyday living, including educational institutions, medical clinics, recreational facilities, and green spaces, will be within a five-minute walk.
An efficient public transportation system will make it possible to get from one end of the city to the other in under 20 minutes, and everything will be within a five-minute walk. AI will be the driving force behind future automated services.
Because of improvements in ultra-high-speed transportation and autonomous mobility options, inhabitants will have more time for self-care and other aspects of quality of life. Any trip will not take more than 20 minutes at most.
Which Businesses Are Most Likely To Flourish in The Line?
Renewable Energy Companies
The Line, Neom is planned to be a technologically advanced city in Saudi Arabia that will run completely on renewable energy. This city presents a unique opportunity for renewable energy companies to get in on the ground floor of this massive project.
As the world moves towards cleaner energy, The Line, Neom presents a prime opportunity for companies to get involved in developing this type of infrastructure. With its plans to be powered completely by renewable energy, The Line, Neom presents a chance for companies to showcase their technologies and help shape the future of energy.
This area presents a unique challenge and opportunity for renewable energy companies. Those capable of taking part in The Line's development will be at the vanguard of the transition to cleaner energy and will have the opportunity to determine the future of this vital business.
Artificial Intelligence Organizations
The Line is planned as a part of the mega-city, Neom, in Saudi Arabia, which is set to be the world's first fully-fledged smart city. The city will be powered by renewable energy and feature cutting-edge technology, including artificial intelligence (AI).
AI will play a big role in The Line, and AI companies will have many opportunities to get involved. The city will need AI for various tasks, including providing customer service and running the city's infrastructure.
If you are an AI company, then The Line is a great opportunity. There will be plenty of work to be done, and you will be able to help shape the future of this groundbreaking smart city.
Digital Marketing Agencies
As the world's first smart city, The Line presents a unique opportunity for digital marketing companies. The Line is a blank canvas with endless marketing campaigns and strategy possibilities. There is a huge potential for companies to reach a global audience with their marketing message, and The Line provides the perfect platform.
Since The Line is still in development, there are many opportunities for companies to get involved early and majorly impact the city's marketing and branding. The Line is the perfect place for digital marketing companies to make a name for themselves, innovate, and experiment with new marketing strategies.
Moreover, an experienced digital marketing agency like Bytes Future can help your business grow across the Neom. The seasoned digital marketing agency professionals can provide you with robust strategies for your online success.
Bytes Future is a digital marketing agency headquartered in Riyadh, Saudi Arabia. They offer a full suite of digital marketing services, including website development, social media marketing, SEO, SEM, PPC, and more. Their experienced professionals have the knowledge and expertise to help your business achieve its online marketing goals. They work with clients in a variety of industries throughout Saudi Arabia. So they can understand the unique needs and challenges of each business. If you plan to do business in The Line, let them put their experience to work for you and help you achieve success online!
Wrapping Up
Future industries of Neom, led by established figures in their fields throughout the world, are already working to solve some of the world's most urgent problems. They are blazing a trail for a new marketplace for game-changing inventions, opening doors for top talent, investors, and commercial partners to join the venture. As an integral element of the massive construction effort now underway at Neom, The Line ranks among the world's most complicated infrastructure projects. Saudi Arabia's Public Investment Fund is one of the world's largest sovereign wealth funds, and it includes Neom in its world-class, diverse portfolio. This will pave the way for unique sectors in Saudi Arabia and all over the Middle East.