YouTube Marketing Services
Grow Your YouTube Channel With Professional Marketing Strategies
Are you looking for a new way to promote your business? Have you considered YouTube marketing services? YouTube is one of the most popular online platforms, and it's only growing in popularity.
Get In Touch
YouTube Marketing Services
As the second largest search engine in the world, YouTube provides an incredible opportunity for businesses to reach a large audience with their marketing messages. Yet many businesses are not taking advantage of this platform due to a lack of understanding of how it works.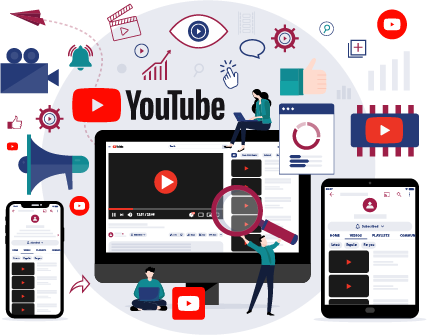 Create engaging videos that connect with target audience.

Optimize channel to increase visibility of videos.

Paid advertising on YouTube for greater reach.

Customized plans to achieve business goals.
Why Your Business Needs YouTube SEO Services
YouTube is the second largest search engine in the world, so it's no surprise that YouTube SEO services can be a valuable addition to your business's online marketing strategy. Optimizing your videos for YouTube's search algorithm can increase your chances of being found by potential customers searching for what you offer.
Let's Get Started
Factors affecting YouTube's search algorithm include title, description, keywords, views, likes, and shares.

A well-optimized video ranks higher in search results and reaches more potential customers.

Marketing or advertising agencies can assist with YouTube SEO and provide additional online marketing services.

Collaboration with experts can enhance video optimization and improve overall business promotion.
Benefits of YouTube SEO Services
It can help increase your visibility on the platform and make it easier for potential customers or clients to find you.

Optimizing your content for YouTube can also help improve your ranking on search engines like Google, which can lead to even more organic traffic.

Using effective YouTube SEO strategies can also help boost engagement levels on your channel, leading to more opportunities for conversions and sales down the line.
Why Should You Hire YouTube Marketing Agency?
YouTube Marketing Agency can help you create and post engaging videos that will reach your target audience.

YouTube Marketing Agency can help you manage your channel, optimize your videos for search engine ranking, and help you grow your subscriber base.

A good YouTube marketing agency will also have a good understanding of the latest trends in online video and be able to advise you on how to use YouTube best to achieve your business goals.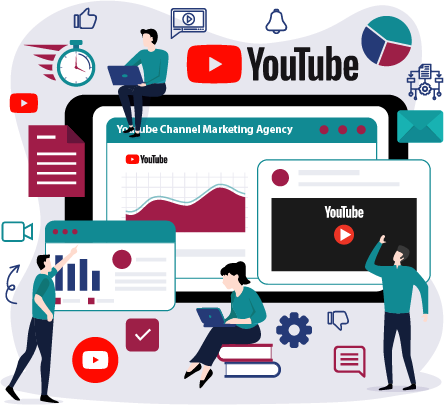 Benefits Of Hiring a YouTube Channel Marketing Agency
There are many benefits to hiring a YouTube channel marketing agency. Perhaps the most obvious benefit is that an agency can help you to create and maintain a strong presence on YouTube. This can be particularly beneficial if you are looking to use YouTube as a platform to market your business or brand.
Agency support for YouTube algorithms and wider audience reach.

Assistance with understanding successful content and video optimization.

Agency support in video production, editing, and promotion saves time and maximizes success chances.
Benefits Of YouTube Channel Management Services From A Leading YouTube Advertising Company
YouTube channel management services from a leading YouTube advertising company have many benefits. Managing a YouTube channel can be time-consuming and challenging, especially if you lack the necessary skills and experience. However, enlisting the help of a professional YouTube channel management service can be highly beneficial for your business. First, it can save you a lot of time, allowing you to focus on other essential aspects of your business. Additionally, a professional company can help you improve your channel's visibility, making it more visible to potential viewers and optimizing it to appear higher in search results. This can result in more views and subscribers, which ultimately leads to more leads and conversions. With targeted ads created by a professional company, you can appeal to your target audience, achieve higher click-through rates, and generate more sales and revenue for your business. Overall, working with a YouTube channel management service can help you maximize your channel's potential and achieve your marketing goals.
Why Bytes Future?
There are many reasons why Bytes Future is a leading YouTube channel marketing agency in Saudi Arabia. Some of these include:
Skilled Professionals
They have a team of experienced professionals who are experts in social media marketing, SEO, and video production. This allows them to create high-quality videos optimized for both YouTube and Google searches.
Various Services
They offer a wide range of services, from video creation and optimization to channel management and community building. This makes them a one-stop shop for all your YouTube needs.
Proven Track Record
They have a proven track record of success, with numerous clients who have seen significant increases in their YouTube views, subscribers, and overall online visibility.