Snapchat Marketing Services
Increase The Power Of Your Digital Marketing Strategy With Snapchat
At Bytes Future, we understand that Snapchat is one of the most popular social media platforms, and we are here to help you take advantage of that! Our Snapchat marketing management services will help you grow your brand and reach your target audience.
Get In Touch
Why Your Business Needs Snapchat Marketing?
You're missing out on a lot if you haven't registered on Snapchat yet. This social media platform is quickly becoming one of the most popular ways to connect with customers and promote your business. And if you're not using Snapchat for marketing purposes, you're missing out on a huge opportunity. If you're unsure why your business needs Snapchat marketing management services, here are a few reasons that might convince you.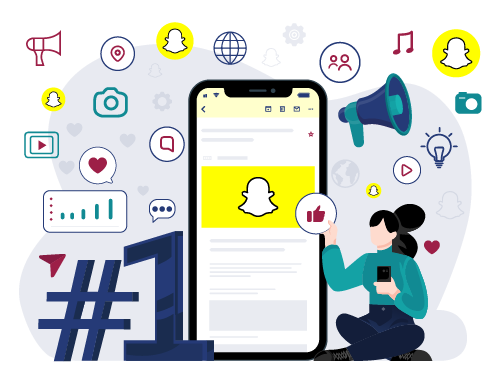 Snapchat is:
Insanely popular, especially with millennials.

A great way to connect with customers on a personal level.

An effective way to promote events and special offers.

An Innovative and entertaining method of advertising.
Benefits Of Snapchat Marketing Services By A Professional
Welcome to the exciting world of Snapchat marketing! This new and exciting form of marketing allows you to reach out to your target audience in a whole new way. With Snapchat marketing, you can create short, attention-grabbing videos that will get your message across in a way that traditional marketing methods simply cannot match.
With the help of our professionals, you do not have to worry about the features of Snapchat and how to use it. Our experts will help you target your potential customers and increase your brand awareness while focusing on the production of your goods/services.
So what are you waiting for? Take full advantage of Snapchat's one-of-a-kind advertising medium by using the app's many features, such as Geofilters and Lenses.
Let's Get Started
Members of our team have extensive training & expertise

Our staff never compromises on quality

Our professionals are aware of every update on Snapchat
What Will Be Included In Snapchat Marketing Management Services?
Bytes Future's Snapchat Marketing Management Services include:
Creating attractive content

Target audience research

Regular uploading of videos

Account management

Using every marketing feature available

Account monitoring

Monthly reporting

Much More!
Procedure to Get Snapchat Marketing Services from Bytes Future's Team
Simply leave us a message

Our team will contact you ASAP

Tell us your goals & objectives

We will design the best possible strategy for your brand

Process the payment

Keep your attention on running your company while we take care of the marketing
Why Snapchat Marketing Agency?
Get Perfect Snapchat Marketing Services Through A Veteran Snapchat Marketing Agency
Bytes Future offers:
Economical digital advertising options

Finest support for customers

Dedication to expanding your company's online presence
Importance of Snapchat Marketing Services
In today's social media-driven world, Snapchat marketing services are more critical than ever. With over 200 million active users, Snapchat is one of the most popular social platforms out there. And thanks to its unique features, it's also one of the most effective platforms for marketing and advertising.
Snapchat marketing services can help you reach a broad audience, engage with potential customers, and build brand awareness. Plus, thanks to Snapchat's unique features, you can create truly unique and eye-catching content. So if you're looking to take your marketing efforts to the next level, Snapchat is the way to go.
There are many benefits to Snapchat marketing, but before we get into that, let's look at what Snapchat marketing is and how it works. Snapchat marketing is all about creating short, engaging videos designed to be viewed by a specific target audience. These videos are then shared with the members of your target audience through Snapchat's messaging system.
Snapchat marketing is still relatively new, which means there's a lot of potential for businesses that are early adopters. With our help, you can create compelling content, run effective campaigns, and track your results.
Why Bytes Future?
Skilled
We have a track record of success in assisting businesses all over the Middle East, including Saudi Arabia, UAE & Bahrain. So no matter what industry you are in, you can always count on our professionals.
Creative
Our in-house artistic staff is creative and always bringing creative ideas so our clients' businesses can expand and flourish.
Well-Known
Experts in our marketing field are always praising our work, and due to that, Bytes Future has established itself as a well-known digital marketing agency in the Middle East.